Building Women Up - Virtual Women's Conference Series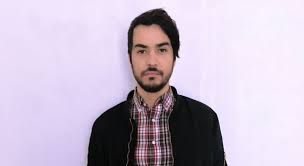 Matt Mascarenas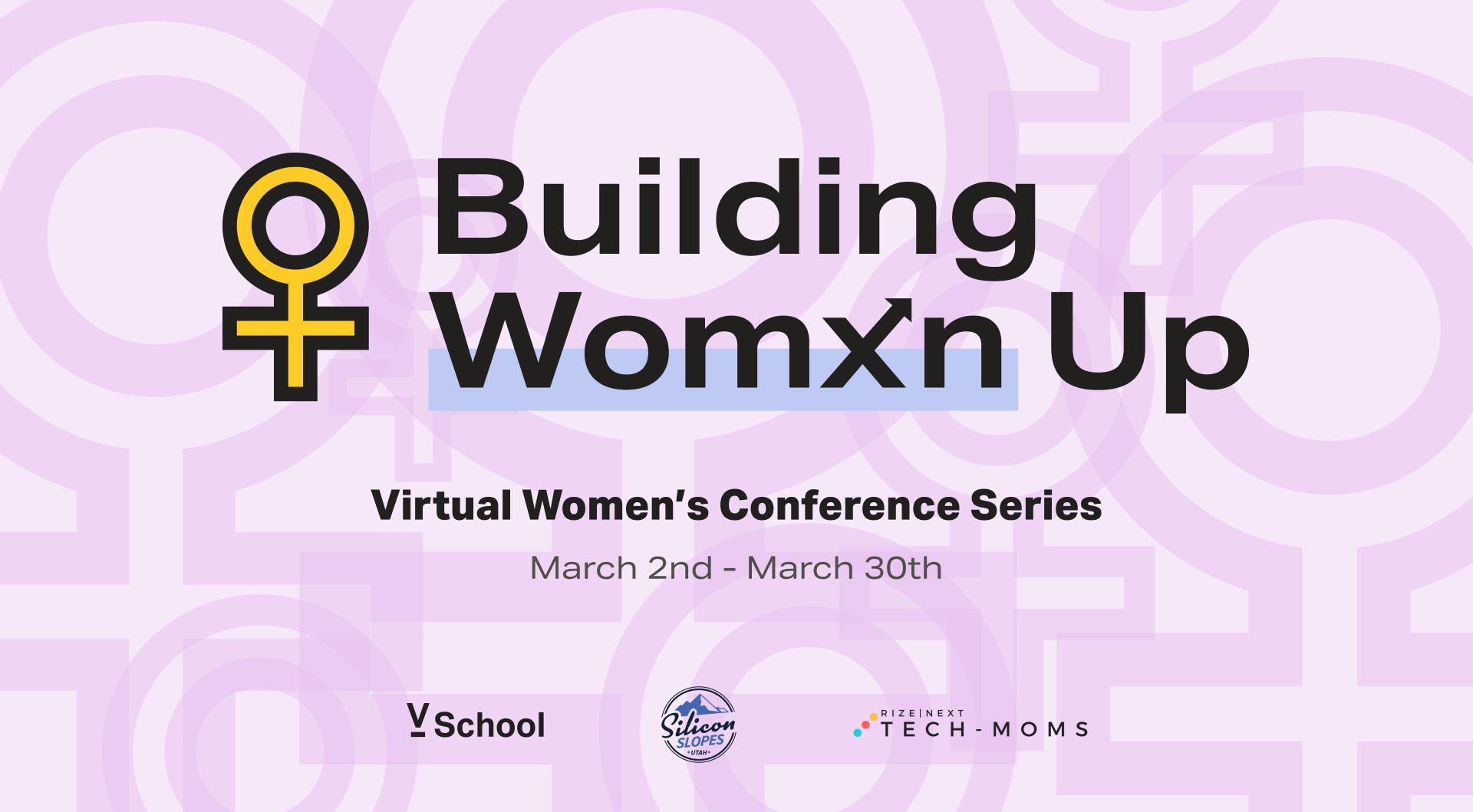 We are beyond excited to spend every Tuesday afternoon in March learning from some of the most influential and inspiring women in the industry. RSVP to the events below and join the conversation.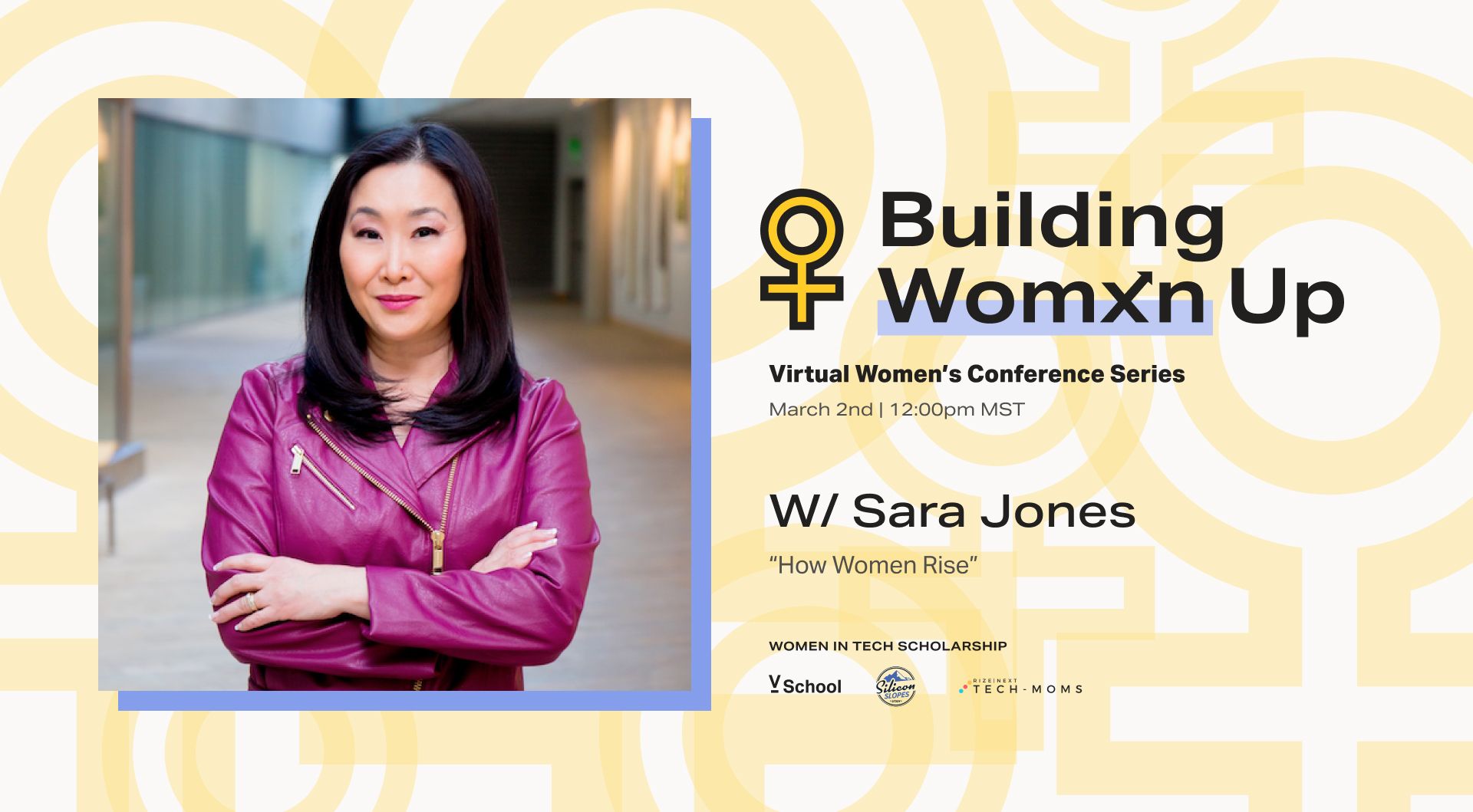 Tuesday, March 2 - 12:00 PM 
Sara Jones - CEO InclusionPro
How Women Rise
Reserve your spot here.
As CEO of InclusionPro, Sara Jones creates global diversity and inclusion strategies to elevate inclusive work cultures.  She has advocated throughout her career for the benefits of greater diversity in our companies, boardrooms, and circles of power. Sara was previously CEO of ApplicantPro, an HR technology company providing recruiting tools with a strong female workforce. She was VP of Strategic Development at Patent Law Works, an IP firm based in Silicon Valley that has received several diversity awards. She was head of business development at School Improvement Network, an educational technology company, where she led product development and business development. There, she developed professional development content on educational best practices delivered through on-demand video. She began her career as a patent attorney, leading diversity efforts and becoming a partner at Workman Nydegger. Sara has a J.D. from the J. Reuben Clark Law School at Brigham Young University and a B.S. in chemical engineering from the University of Utah.


Sara's extensive professional background in technology, business development, law and leadership roles has made her a valued executive coach, a strategic advisor, and a valuable connector. Sara was adopted from South Korea at age three by a family in Utah. Sara miraculously found her Korean birth family after 42 years of separation. Her story on the topic of transracial adoption was featured by TED at go.ted.com/sarajones.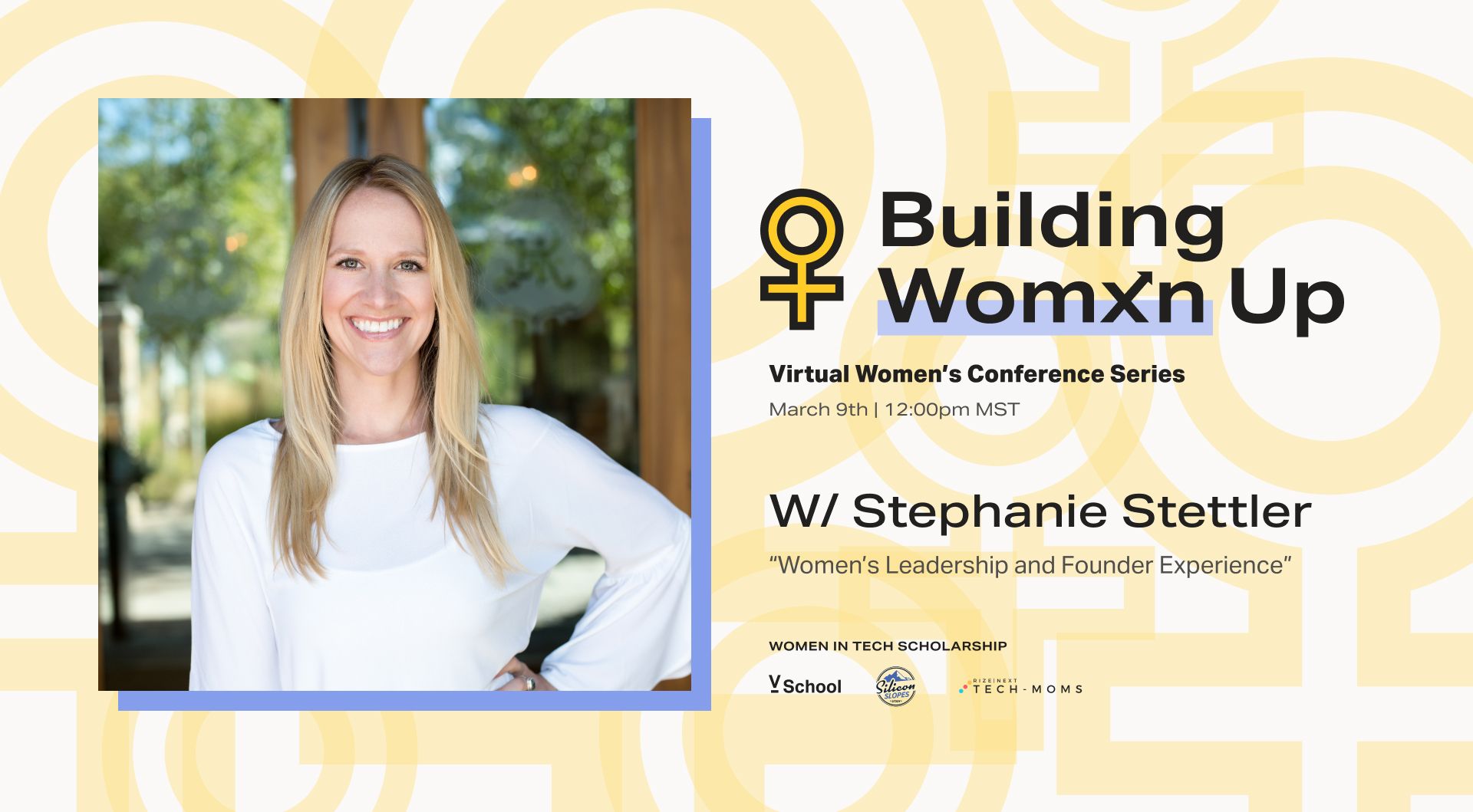 Tuesday, March 9 - 12:00 PM
Stephanie Stettler - Co-Founder, Womenpreneurs
Women's Leadership and Founder Experience
Reserve your spot here.
Stephanie is a co-founder and co-leads Womenpreneurs, a Utah-based collective driving bold female leadership. Stephanie is driven by a deep purpose to build betterment by broadening consciousness through community building, enlightened learning, and bold innovation. She draws on 15 years of experience in the impact sector. Most recently, she headed up the community of investors at Gratitude Railroad, an alternative investment platform shifting capital from traditional finance to impact investing. Prior to that she directed a technology commercialization accelerator on behalf of BoomStartup for the State of Utah's Governor's Office of Economic Development. She has also launched communities and led programming for Impact Hub Salt Lake, Social Enterprises, and the Green Sports Alliance. She holds an MS in Leadership for Sustainability Education from Portland State University and a BS in Economics from the University of Utah.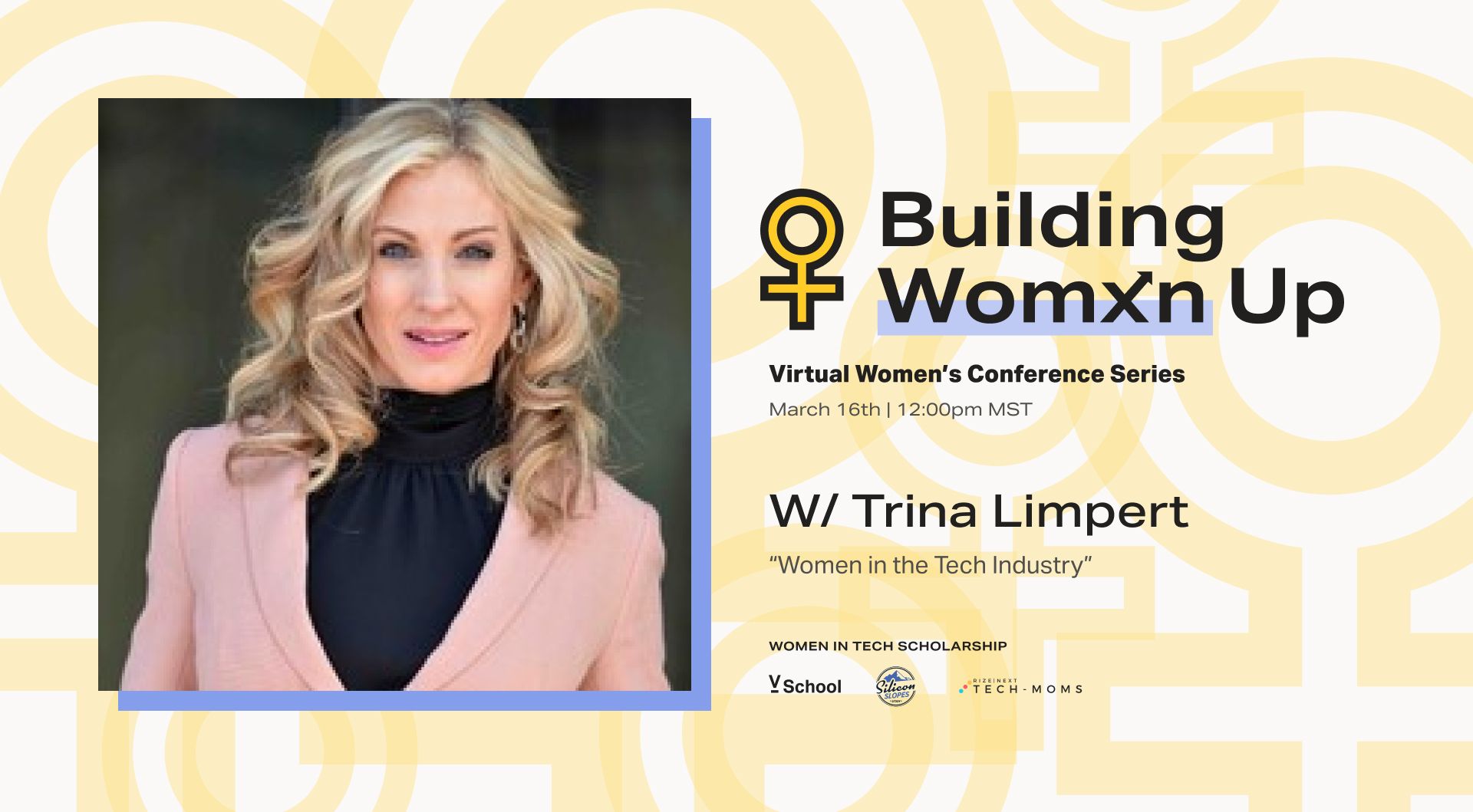 Tuesday, March 16 - 12:00 PM
Trina Limpert - RizeNext, CEO & Founder
Women in The Tech Industry
Reserve your spot here.
A passionate technology leader known for constructing strategic vision to achieve business goals, Trina Limpert offers a unique blend of experience in strategic customer experience execution as Senior Director, CX Consulting at Oracle.  In her prior role as President of Women@eBay in overseeing 1500 members across 17 countries and 22 sites, Trina lead diversity and inclusion initiatives across eBay. Her work along with eBay's Women in Technology organization lead to receiving the Women Tech Council Impact Award in 2015, finalist Women Tech Council awards 2017, finalist for the upcoming National Women in IT awards for RizeNext as "Diversity Program of the Year", and recently selected as one of Utah Business Magazine's "30 Women to Watch".


In 2018 Trina founded RizeNext, a technical and professional development company to consult companies on how to best engage their diverse workforce in order to deliver growth & profitability success.  Her personal mission for the last twenty-five years has been to create awareness of the benefits for women in technology careers and has brought the Tech-Moms program to Utah in partnerships with Facebook and Weber State University to assist women in re-entering the workforce or transitioning their careers into higher paying and flexible technology roles.  Her company consults companies in diversity strategy, employee engagement methodology and conducting leadership development training (rizenext.com).


Her career spans 25 years in High Tech here in Utah, including time as a Network Engineer at Novell, Technical Sales at Oracle and Senior Product & Technology Management at eBay and as Senior Director of CX Consulting at Oracle. Trina currently serves on the Women's Success Center Board of Advisors at Utah Valley University, Board of Advisors for Weber State University School of Engineering, Applied Science and Technology, and National Advisory Committee for Weber State University.  


Trina holds an Associates of Science in Computer Science from Weber State University, Bachelors in Business and Information Systems from the University of Phoenix, Executive MBA from the University of Utah and Certificate in Driving Corporate Performance from Harvard University.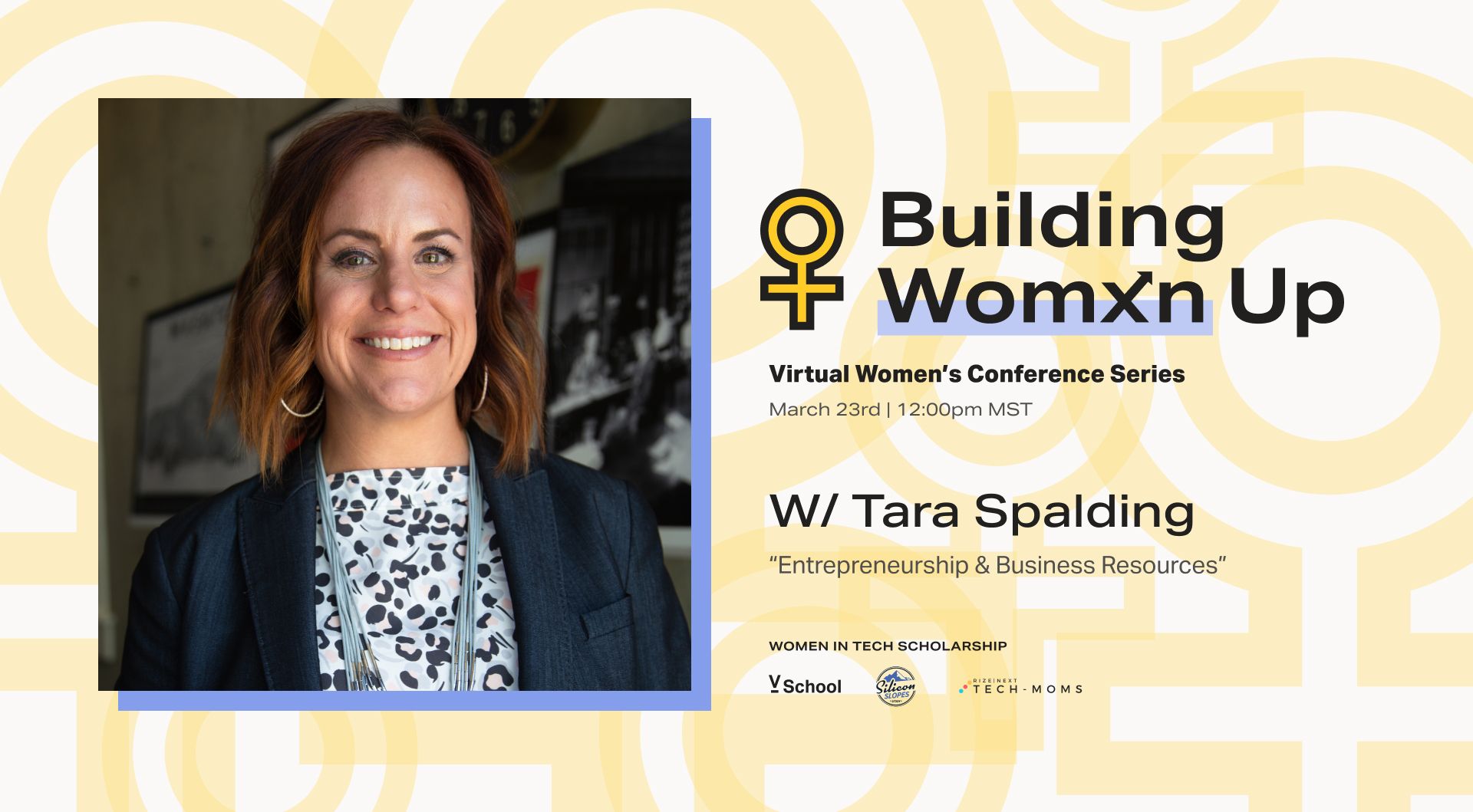 Tuesday, March 23 - 12:00 PM
Tara Spalding - President and Founder, Hen House Ventures
Entrepreneurship & Business Resources
Reserve your spot here.
Tara Spalding is the Founder and President of Hen House Ventures, a startup incubator based in Salt Lake City, Utah. Chosen as a 2020 Utah Business Top 30 Women to Watch, Tara is motivated to help companies who intend to better the world through technological innovations but need a path to fund and grow their business. Beginning her high-tech career in Silicon Valley when she taught herself to code software, she became the first employee, and eventually VP of Marketing at SugarCRM. Tara is on the advisory board for VentureCapital.org and enjoys spending time with her family in the outdoors.


Areas of Expertise:
Entrepreneurism
Go-to-Market strategies
Raising capital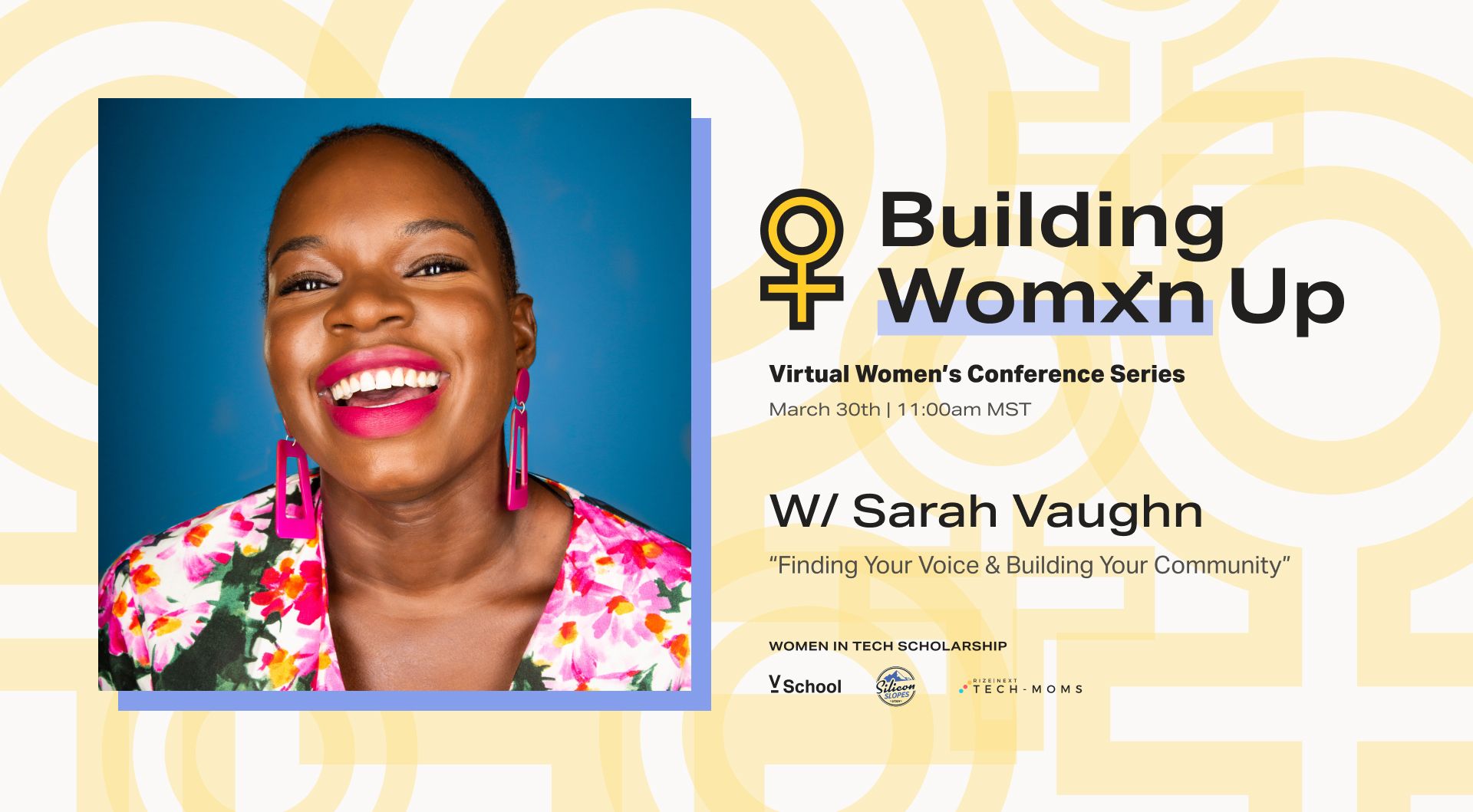 Tuesday, March 30 - 11:00 AM
Sarah Vaughn - Founder & CEO of Melanin Squad
Finding Your Voice & Building Your Community
Reserve your spot here.
Sarah Vaughn is a 29 year old entrepreneur who is elevating the lives of women of color living and thriving in Utah! Sarah is the proud daughter of Jamaican immigrants; born and raised in Florida who has now rooted herself in Salt Lake City, Utah.


She is a zealous world traveller, Teva wearing hiker, professional bruncher, active Instagrammer, believer of christ, authentic connector, passionate community builder, sitting on more than 3 boards striving for equality of all people, and mental health proponent.


Sarah has a BA in Communications and MS in Public Administration, which she has used while working for and with major national and international nonprofit organizations, such as United Way Worldwide and Boys and Girls Club of America, to organize events and increase fundraising.


Sarah has also spent time being a music DJ, fashion blogger, bodybuilding competitor and Political campaign manager.


At the age of 25, Sarah had a devastating experience requiring her to confront the reality of racism within her church, community, herself, and the 400+ years of it in this country. This journey led to her founding a company that creates safe spaces, curated experiences, and a platform for womxn of color to foster connections while being free from mainstream stereotypes; Melanin Squad.


Through Melanin Squad Sarah has facilitated the connecting of over 100 women in just the Salt Lake City area, who have been in search of such a community and she is working to make Melanin Squad a worldwide community.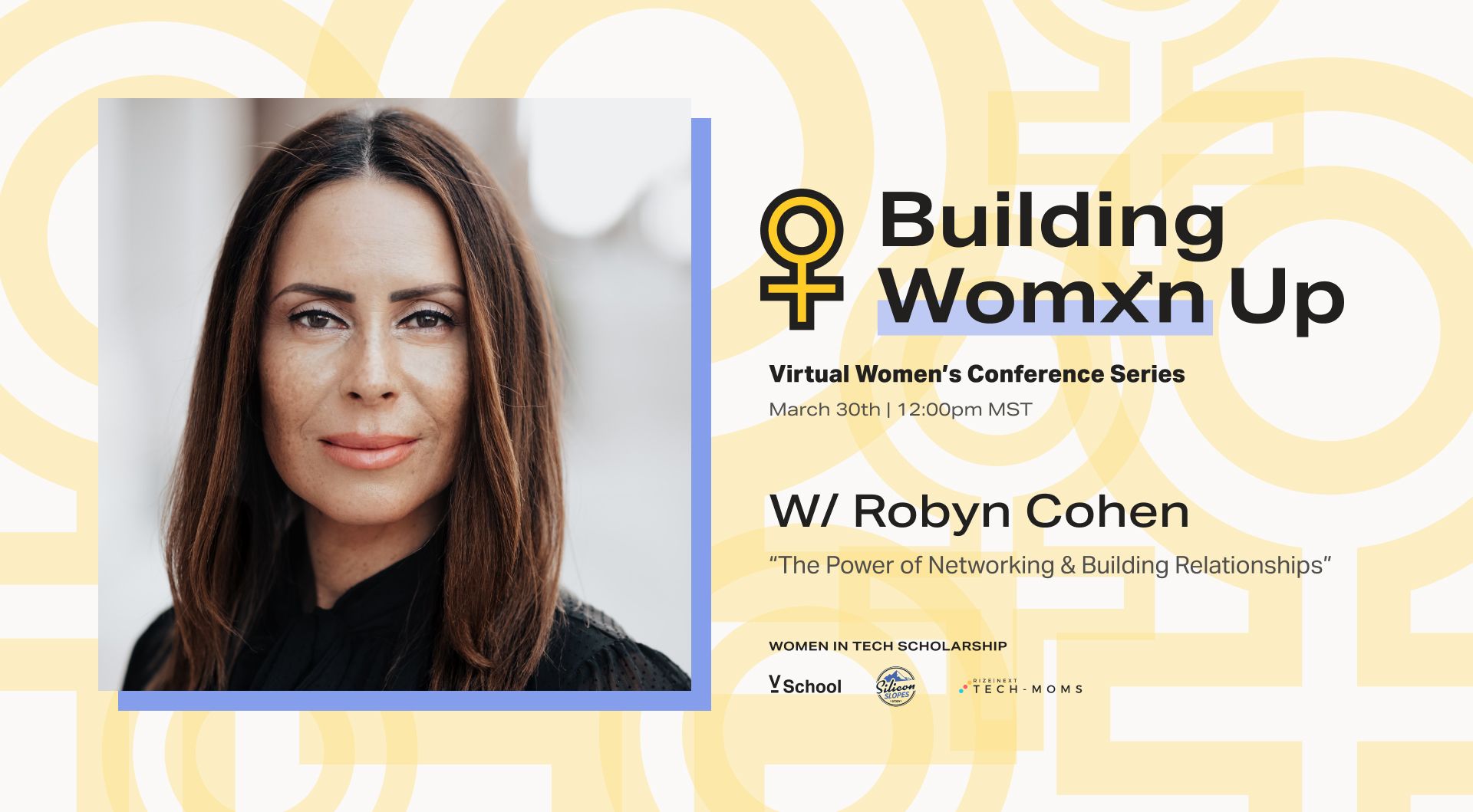 Tuesday, March 30 - 12:00 PM
Robyn Cohen - Director of Client Relations, SEARCH Group Partners
The Power of Networking & Building Relationships
Reserve your spot here.
Robyn is an accomplished professional with 15+ years of experience specializing in operations, integrated marketing strategies and strategic partnerships, having worked with startups, medium-sized businesses, as well as large corporations. Most notably, in 2017 she was hired as Director of Operations at the Impact Hub Salt Lake, one of the city's first co-working spaces. Within her first six months, she increased revenue by 60%, achieved 100% occupancy, and negotiated an exclusive partnership with Slack to do an experiential marketing campaign in Q4 of 2017.


Robyn has also been involved in the women's advocacy space for over a decade. In 2008, she was one of the first Executive Director's for Girls in Tech. Then in 2010 while living in Brazil, she launched her own women-focused platform, one of the first of its kind that highlighted key female executives and entrepreneurs in Sao Paulo's growing startup community. Upon moving to Salt Lake City in 2014, Robyn was one of the first executive committee members for Womenpreneurs, and during her time at the Impact Hub Salt Lake, she produced Women's Week two years in a row featuring prominent women across the Salt Lake Valley in the areas of business, tech, politics and entrepreneurship.


Robyn leads business development and client relation efforts at SEARCH Group Partners, with a focus on supporting organizational growth through building new relationships, as well as maintaining existing client relationships.


Originally from Toronto, she has lived in two continents, three countries and seven cities over the course of 25 years, bringing a unique and dynamic perspective to managing and growing businesses, as well as the importance of community.


In her spare time, you can find her in the gym, camping somewhere in the Intermountain West, and spending time with her furry daughter Asia and her husband Todd.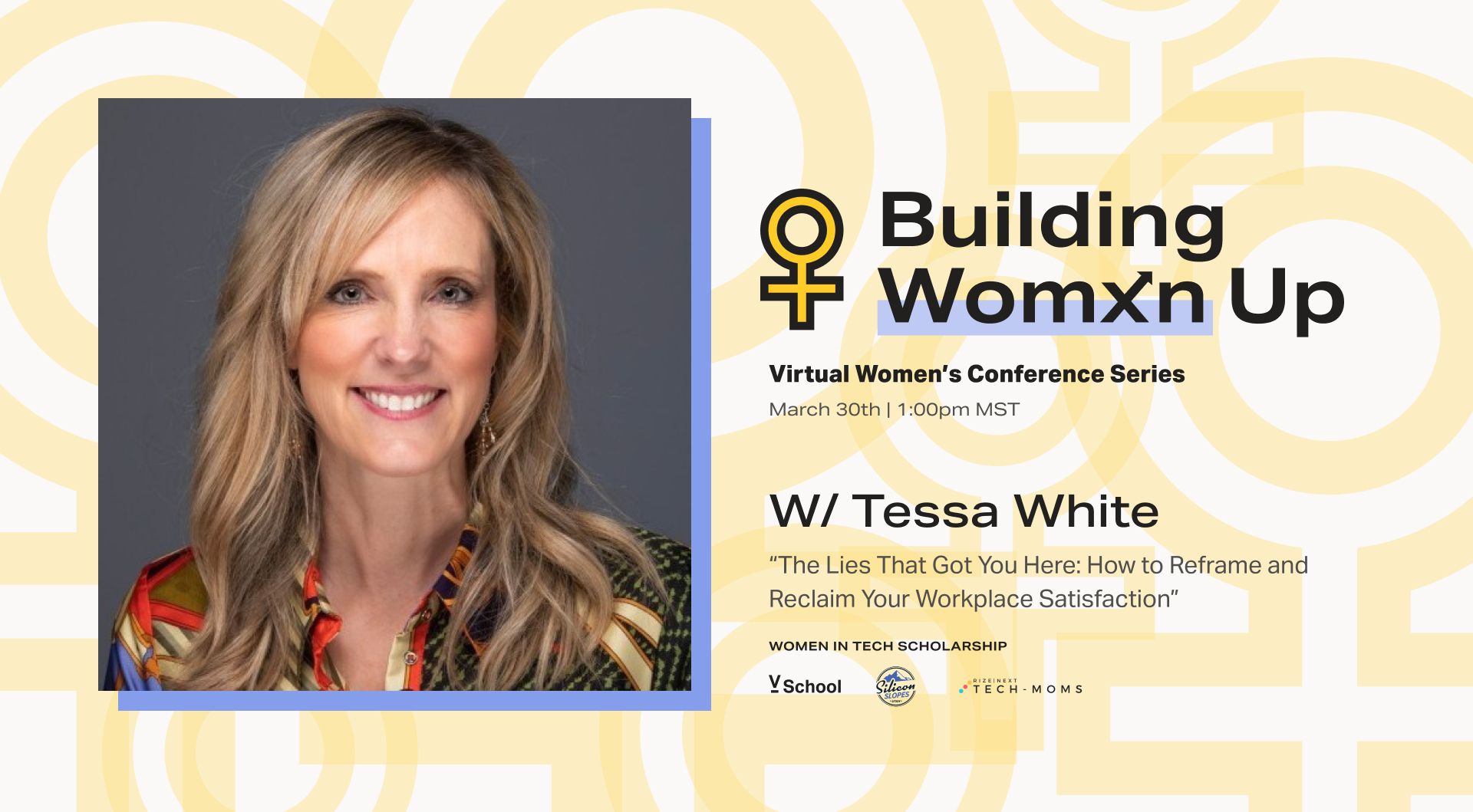 Tuesday, March 30 - 1:00 PM
Tessa White - Reformed Human Capital Executive
The Lies That Got You Here: How to Reframe and Reclaim Your Workplace Satisfaction
Reserve your spot here.
I am an HR professional with 20+ years of experience in the field. I have led HR in Fortune 50 companies as well as small start-ups to mid-sized organizations. My talents are best served in fast moving environments where I have leeway to creatively solve problems. I like to experiment which may mean you raise your eyebrows a few times at me, but I believe that good HR always aims to balance risk and reward to get the results needed. I have the ability to take complex issues and distill them down to quick conversation bites and actionable items. My passions are in filling in the puzzle pieces of talent in order to create cohesive teams . I like working for companies with a penchant for experimentation. If you like the corporate culture of Southwest Airlines or Google you would like me. I would instantly stop breathing if you made me work for a government agency. I find great satisfaction working with investors and boards about how to drive a people strategy that works. I understand fast growth, having worked in several dynamic environments where M&A activity is the norm.
---
Women in Tech Scholarships Now Available!
Tech Needs the Creativity and Innovation of Women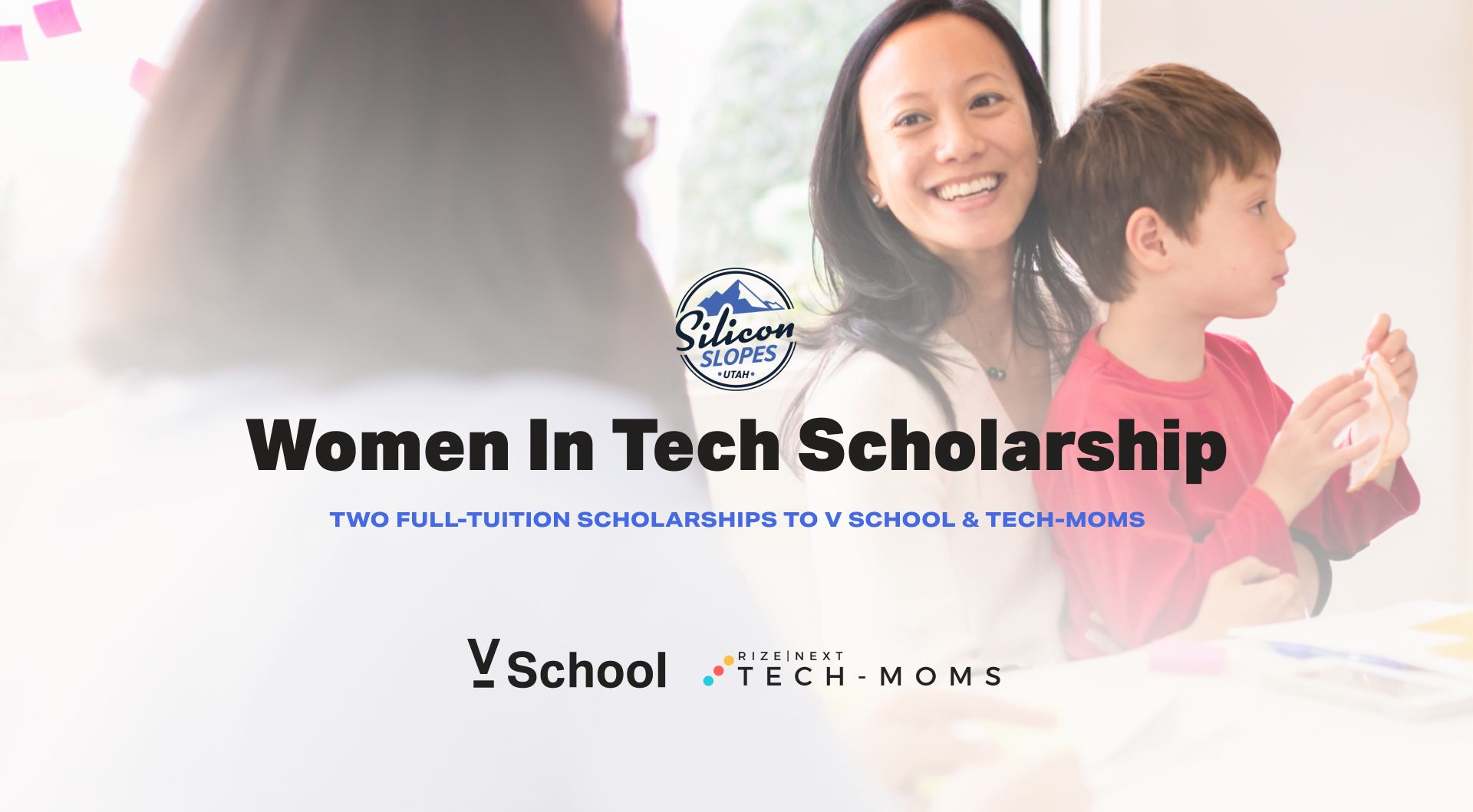 We've partnered with RizeNext Tech-Moms and Silicon Slopes to provide two full-tuition paid scholarships specifically to help women launch careers in the tech industry.
The first scholarship is available for V School's web development or UX/UI design online programs. The second scholarship is for TechMoms technology programs.
It's your turn to launch a career in tech. Begin your scholarship application here.